Volunteer at Kongoji Zen Temple
Live together with the head priest of the temple and help keep the temple garden clean.
Together with the Kongoji Zen Team you will open the temple at 6 am and clean the front yard as well as the Zen garden in the back of the temple by weeding, trimming the hedges, and sweeping.
During volunteering you will have your own traditional tatami room and sleep on Japanese futon, eat together with the staff breakfast and lunch and even with the volunteer work,  you will be able to go travelling on your days off.

Choose between one of the following Volunteer Programs:
Your daily work consits of the same tasks as the Kongoji staff members. The temple garden is the main priority and daily care of moss within the garden, and the Zen garden itself is a big part of the work. But you will also be able to build bamboo fences and build other new things. The work can be hard some times, but it will give you the best inside look on how Japanese temples are functioning.
Half of the working schedule will be tailoured to your unique skills.
For example: If you are a social media manager you will get a free hand over our social media account during your stay, as a Yoga teacher you will be able to teach locals daily at the temple, or as a carpenter you can build a deck to meditate...
If you have skills which we can implement into the daily life at the Zen temple, you will have the freedom to do half of the working schedule what you love.
※ To discover the area independently you can choose between working 4 full days (and getting 3 days in a row off) or working for 5 half days (and getting 2 days in a row off).
Please inform us, if you like to get the weekends off or during the week.
※ Working clothes will be handed to you on your first day. Please take some good shoes with you, otherwise you will have to work in traditional Japanese footwear.
※ You will have your private room and your own toilet (which you have to keep clean during your stay) the bathroom, living room and kitchen will be shared.
※ You can stay for only one week, three weeks or even a whole month.
| *Typical Work Schedule | |
| --- | --- |
| 06 am | Ringing the temple bell |
| 06 am - 06:15 am | Opening of temple |
| 06:30 am | Breakfast |
| 08 am - 09 am (1h) | Cleaning of frontyard |
| 09 am - 10:30 am (1.5h) | Cleaning of "Togen`s Garden" |
| 10:30 am - 11:30 am (1h) | Cleaning of graveyard |
| 11:30 am - Noon (0.5h) | Cleaning of main street |
| Noon | Lunch |
| 02 pm - 05 pm (3h) | Free Time or work depending on the temples schedule |
*On Mondays at 6am there will be a morning ceremony and at 6:30am and 8:15pm Zen meditation held at the temple. On this day the schedule will change.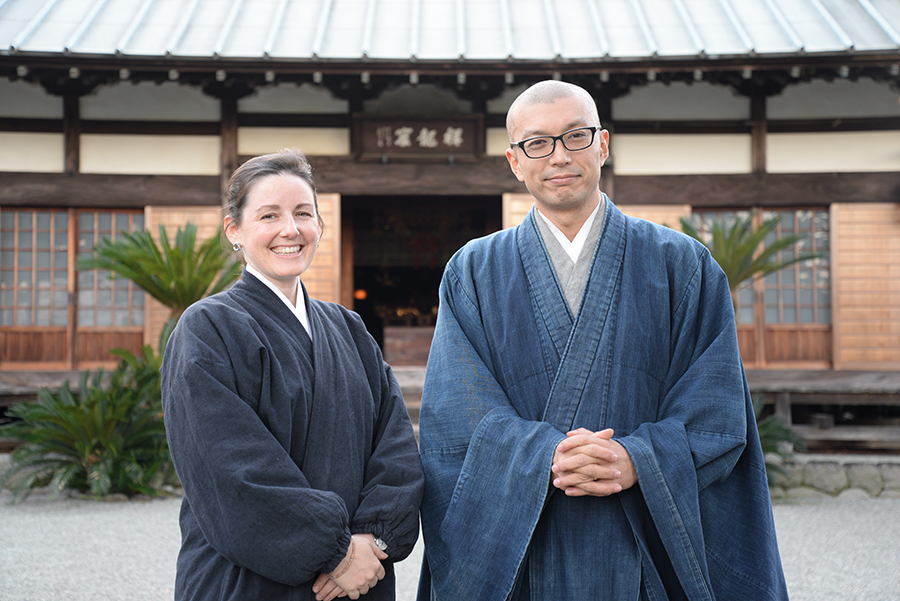 For more information, please get in touch with us on Facebook or Instagram.
(Please keep in mind, that volunteering at a Buddhist temple includes a lot of physical labour.)
"For me volunteering at Kongoji Zen Temple was a great experience. When I arrived there, Judith and Issui made me feel at home straight away. They offered a huge and beautiful Japanese guest room. While we sat with a warm cup of tea, I got introduced to my work schedule. Every morning at 6a.m. I rang the Bonsho before we opened the wooden doors of the temple. Depending on the day, Issui taught me and some guests how to Zen meditate. After breakfast we started cleaning up the garden by sweeping the leaves, sawing the bamboo, weeding or sowing the new peonies. They included me in their plans which made part of the garden development. It was very enjoyable to run free my creativity. After lunchtime and on the weekends, I spent my free time by doing Yoga, petting the temple cats, hiking or visiting Tokyo. One negative aspect was the sightseeing on the weekends. Depending on the trip it might be more convenient to travel during week. But there was no problem to change work and off days. The host family knows a lot about Japanese culture and its attractions. Also, they are fluent in English and Japanese. Judith`s mother tongue is German. As it has been my first time in Japan, I couldn`t imagine any better way to visit this island nation."
- Michelle